Tin Man Diner - Lewisville Texas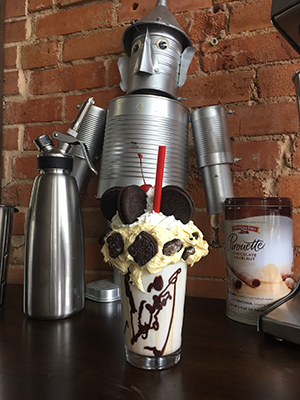 The Tin Man Diner is a place to come and eat great pizza and enjoy an off the hook shake. It is a place to bring your family and friends, young and old. Relax and enjoy some great food and company. At Tin Man Diner, we offer some trademark pizza doughs like the" Fuggetabout It" a classic New York style thin crust that Guido says we can't give out the recipe!! Or try the "Miss American Pie" the all American rising crust dough that the girl next door loves!! You'll say bye-bye to your old favorite pizza pie!!
After a delicious pizza, relax, hang-out, and enjoy a "Heart satisfying" shake. Pick from our favorites like "The Oreo Bomb" or the "Pick Up The Pieces, Holy Reese's" or design your own craft shake with our shaketender's!!!