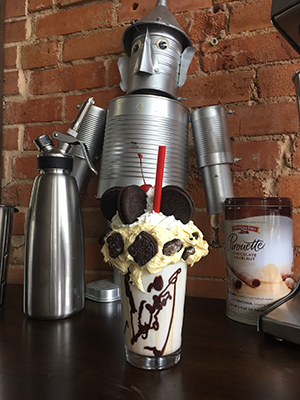 Notice from Tin Man Diner:
By reading this warning and acknowledging you are taking the responsibility for the Freak Shake.
Drinking this too fast could result in a brain freeze and cause pain and distraction. Tin Man is not responsible for abuse and/or reaction  to this product.


 

The Freak Shake, due its to development and design is absolutely messy, occasionally spills and will dirty your car, clothes and home. Tin Man cannot pay for or reimburse any costs associated with dry-cleaning, laundry, car detailing, or maid services.


     

2a.

This is especially problematic when Freaks are ordered to-go. Carrying and transporting these is done at           your own risk. Our "Shake-ologists" are currently working on safer carrying solutions in our engineering department but for now consuming a Freak must be done at your own risk.
 

There is a significant amount of caloric intake (lots of carbs, sugar and fat) in this product. Some eating plans encourage this, others do not. The satisfying nature of a Freak could lead to weight gain, imbalance in blood sugar levels and temporary changes in mood and personality (sometimes referred to sugar rush). Tin Man is not responsible for the reaction to your body. Should you have any questions, please contact your doctor before consumption.
I understand a Freak is an amazing off the hook shake and take full responsibility for any changes to mood, body, or state of mind.

X---------------------- signature
------------------------date